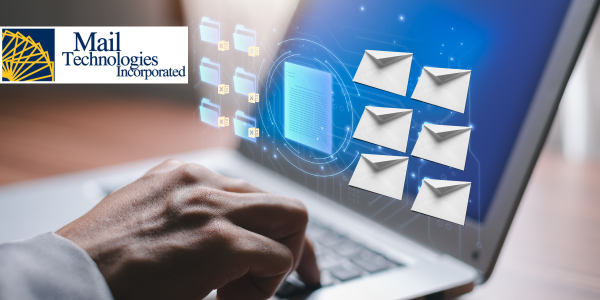 I remember when I was younger and got my very first job. The company was sending many thousands of marketing mail pieces every few weeks, and looking back at those times, the first thing that comes to my mind is, "I wish they had used a mail processing service!" That was long ago and far away, but it's a great illustration of how tedious work can be without innovations and automation, and how much these help companies.
Many employees, including myself, performed the dull and time-consuming mail preparation manually, joking that we were professional envelope managers and certified sealing specialists. I remember that the brochures were ordered from the printing center and delivered by truck to our office, as were large quantities of envelopes. This is where the hardest part started. We had to print all the addresses from the database on the labels and stick them to the envelopes, making the same hand movement for hours, then put a mail piece into each envelope and seal it.
Sounds simple, till you understand that there were towering mountains of envelopes in the office, occupying considerable space for a few days. Now mailing service providers can take over all this work for their clients!
For enterprises with high mail volumes, those that send thousands of invoices, billing statements, and other documents every month, it is easier to distribute their mail via Mail Technologies Inc (MTI), the parent company of DocuSend, the cloud-based mailroom. Having a bulk mailing provider is sensible for big businesses because they don't have to be tied up with the mailing process, and at the same time, it saves them time and money. In addition, Mail Technologies Inc offers many more services. MTI's IT specialists provide all the programming support required to create documents based on data sent from the client's software, and they custom-develop programs that act as an extension of the client's billing system. This enables our clients to generate the kind of documents they need for efficient and accurate billing distribution. Then the documents are uploaded to the MTI site for printing.
At Mail Technologies Inc, we use proprietary technology to process the mail and state-of-the-art machinery to print, fold and insert the documents. Software-driven printers, inserters and postage machines process large mail volumes fast and efficiently.
Mail More, Spend Less
Mail Technologies Inc can offer a lower final price, as we not only buy materials in bulk but also group all the mail going to the same zip code, which allows us to receive a discount from the USPS.
Normally, the USPS scans the addresses with machines that use OCR technology and puts an Intelligent Mail barcode (IMb) on each envelope. But our automated mailing process results in skipping this stage. MTI electronically generates an Intelligent Mail barcode for each address and prints it under the address. That allows us to sort the mail according to destination. We accomplish a part of the work that the USPS usually does, which means much faster delivery of your documents.
That's great for big companies, but what about the small and medium businesses that don't mail such high volumes?
Why Mail Volume Is Not an Obstacle Anymore
Are you an SMB owner or operator and want to outsource your mailing to a print-and-mail service? A contracted minimum of pieces is usually required to qualify. But not for DocuSend. Our DocuSend online solution enables any size business to combine their documents with thousands of others uploaded by businesses nationwide, and even from outside the US, during the same day. It doesn't matter if your company's mail accounts for only a few of them. By combining them, we create a single stream that allows your mail pieces to qualify for volume discounts, which allows DocuSend to keep the price down for everyone.
There are no contracts or required monthly mail minimums, so you just use DocuSend when you need to, and pay as you go. Large and small customers alike love that they can do same-day billing to improve their cash flow.
And the entire process is done right from your desktop—with all the advantages of having a company mailroom, but with none of the overhead. Using DocuSend, clients just upload a preaddressed PDF—no data is required.
Not only that, but you also get a personal report portal with document retention (unless you opt out in order to comply with HIPAA requirements) and the ability to track your mail and to resend it either as postal mail or as an email.
How Is All That Mail Processed?
It has been well established that DocuSend is a document distribution service based securely in the cloud. Small businesses upload their PDF communications directly to our mailroom any time they need to mail an important document. In the end, the mail of all the small businesses and big enterprises is printed and prepared for delivery at one facility, using the same machines. The mailing and return addresses are checked by the program to ensure they are valid and complete, and they are corrected if possible, or rejected if not correctable. The zip codes are grouped by the software so the mail can be efficiently run through the Postal Service's high-speed mail processing equipment. After being directed to MTI's industrial printers, the documents are automatically printed in the correct order according to postal requirements. The printed documents are transported to high-speed robotic machines to be folded and inserted in envelopes, which are then dropped into trays separated by delivery route. Watch these marvelous machines in action.
On the left edge of each page, a 3 of 9 barcode is applied to allow the inserting machines to accumulate and fold the sheets of multiple-page documents into the correct envelope. This barcode is only slightly noticeable (and makes smaller companies look big!). Another barcode, the IMb, is printed under each address. It is rapidly scanned at the USPS facilities along the route as the mail piece travels through the USPS system to its final destination. A permit provided by the USPS eliminates the need for applying postage. Together, the IMb and postage permit speed up mailing compared to using a postage meter or applying traditional stamps. This means your customers' bills can get to them up to twice as fast.
The last step is sending a report to the USPS that contains, among other information, the number of envelopes that will be sent, so they can decide which kind of truck is needed to pick up the mail and take it to a USPS processing and distribution center.
It's a Kind of Symbiosis
MTI, with its high-speed printers and inserters, handles the files uploaded to DocuSend, while giving small and medium businesses access to bulk mailing benefits previously available only to the big clients. At the same time, DocuSend's modern cloud-based technologies have made some MTI processes more efficient and have given larger companies the flexibility to mail daily. Combining these benefits makes the mailing process more efficient for everyone.
Our team receives data files that contain thousands and thousands of documents to be mailed, which are converted into PDFs and then added to the DocuSend stream. But not everyone's documents can go straight into DocuSend, and not everyone can produce a PDF, especially from older systems, or perhaps the statement or invoice is the type that was done on a line printer and really needs a facelift. When a company needs help with their invoices, Mail Technologies Inc specializes in improving their existing documents or helping them create new ones, with the benefit of more than thirty years' experience in the mailing industry.
For DocuSend users that already have their PDFs ready to print, the mailing process is always faster than buying a stamp, as uploading and paying for their order takes only a couple of minutes.
We Are Glad to Help All Kinds of Businesses
Today, American businesses collectively generate incredible amounts of mail. What's the convenient way to deal with all that mail? Mailing via Mail Technologies Inc and the DocuSend cloud-based mailroom. Now all types and sizes of businesses can mail faster and easier and at the same time cut mailing costs. Our drive for cost-efficiency and superior customer service is why we are always looking for ways of improvement. Get in touch with us and let us know how we can serve your business.

Nataliia Popova is a member of the quality assurance department at DocuSend's Powered by © Mail Technologies, Inc. She loves writing stories and articles, reading inspiring business books, and spending time with her family and her three cats.